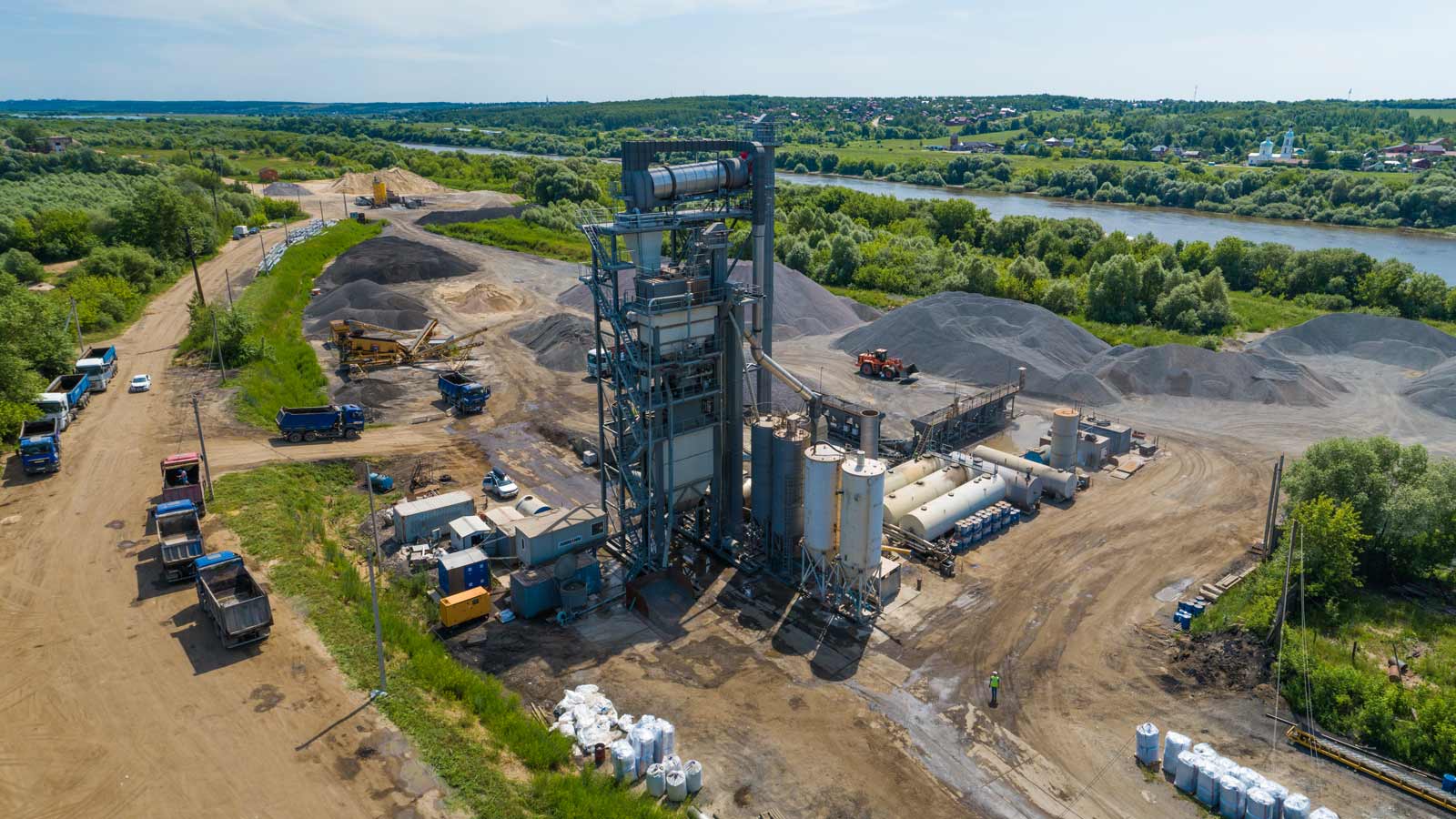 Russian Firm Starts – and Quickly Expands – Asphalt Recycling
Focus on innovation, sustainability and energy efficiency
JV AUTOBAHN has been the market leader in road and airfield construction in Russia for 25 years. A key reason for the company's success is its ability to prepare for future challenges – and opportunities.
The company handles a variety of infrastructure-related work including engineering surveys, new construction, reconstruction and repairs. In 2018, it introduced recycling to its business with the purchase of an Ammann ABA 240 UniBatch Asphalt-Mixing Plant with RAC25 cold recycling system.
The RAC25 enables production of mix with up to 25% cold RAP. AUTOBAHN management saw this as a good start – but only a start. After discussions with Ammann engineers, company leaders decided to plan for the future. The purchase included a reinforced high-capacity AFA-3075 filter, with 70 000 Nm³/h exhaust gas volume, that ensured the plant was properly configured so it could recycle hot materials at a later date.
The plant successfully operated for two seasons, producing various types of asphalt mixes, including those with 25% cold recycled materials (RAP) as well as SMA (stone mastic asphalt) with 10% RAP.
In 2020, AUTOBAHN added a second mixing tower and RAH60 parallel flow drying drum. The adjustment enabled utilisation of 25% cold materials – and up to 60% hot RAP. Ammann engineers faced a significant task. The RAH60 is designed to be part of a permanent plant. Yet AUTOBAHN needed to occasionally relocate the plant.
The Ammann engineering team rose to the challenge, designing and implementing a mobile steel foundation for a hot recycling plant. The parallel flow Dryer, support structure, conveyors and elevator were mounted on portable footings for easy assembly and transfer between locations. Ammann is the only plant manufacturer to offer this solution.
"We thought long and hard about which modern options our new flagship plant should be equipped with in order to support the entire range of innovations we were implementing," said Nadezhda Savenkova, deputy managing director for innovation and quality at AUTOBAHN. "As a result, in addition to the cold and hot recycling, we ordered a foamed bitumen supply for use on its own and in combination with other technologies."
AUTOBAHN can produce mixes with varying amounts of RAP because it has both hot and cold recycling systems. It can use the systems individually or combine them while producing a single mix.
A cold feed group consisting of two 13 m³ feeders supplies the RAP. The conveyor groups are designed so the operator can send material to the cold recycling system (RAC25), the hot recycling system (RAH60) – or to both systems simultaneously.
The principle of the RAH60 parallel flow Dryer is as follows: recycled material and raw gas are fed in the same direction. This works in connection with the mineral drum, i.e., 60% of the material comes from RAH60 and 40% from the mineral drum. To reduce emissions from the parallel flow Dryer, the temperature of recycled material doesn't exceed 130°C. The temperature of the asphalt is increased when it mixes with the heated material from the mineral drum.
"We do our best to make the most of the plant's capabilities and produce mixes with higher amounts of RAP and foamed bitumen," said Savenkova. "Of course, a lot depends on customers' requirements. But for our part, we encourage the growing interest in recycling technology in Russia and are happy to be at the forefront. We hope to become the first company in Russia to successfully implement 60% RAP, ensuring the top quality of asphalt mixes. Recycling technology has many economic and environmental benefits. It does require serious investment, but we are sure that the future belongs to recycling."
To help control and optimise production, AUTOBAHN used the Ammann as1 Control System with an advanced Dynamic Recycling Addition (RAD) module. The company praised the features of the as1 – and the RAD module in particular.
"The as1 Control System is very user-friendly, allowing easy control of the entire production process," said Sergei Kultygin, production manager. "This is especially important when producing complex mixes with RAP. We are now actively mastering the functionality of the RAD module, where RAP ratio can be easily changed during the ongoing production process with a click of the mouse without changing the recipe."
Kultygin continued, "We are grateful to the Ammann engineering team for their hands-on help in implementing recycling technology at our plant. As it turned out, there are many different nuances in preparing, selecting and feeding RAP into the system. The order in which material is entered into the mixer and the advanced technologies utilised also have a significant impact."
There are many benefits to the RAH60, including:
Environmentally friendly – utilises up to 60% RAP
CO2 emissions reduced by 3.2 kg/t asphalt
Production costs decreased as much as 55%
Energy cost savings increased up to 17%
Perfect fit with cold recycling (RAC)
Ideal for low temperature asphalt
Retrofit of ABA 240 UniBatch with RAH60
| | |
| --- | --- |
| Capacity | 240 t/h with 5% moisture |
| Drying drum (mineral) | T-2390 |
| Parallel drying drum (RAH60) | RT-22100 |
| Burner for the mineral drum | 18 MW |
| Burner for RAH60 | 7 MW |
| Filter | AFA-3075, 70 000 Nm3/h |
| Screen | VA-1840-S-6 |
| Mixer | AMIX-2.30 3.3 t |
| Hot mineral silo | 61 t |
| Ready mix silo | 110 t (2 compartments) |
| Silo for recycled material | 20 t |
| Control system | as1 |
| Recycling system | Cold RAС25, Hot RAH60 |
| Hot recycling supply system | Mobile steel foundations |