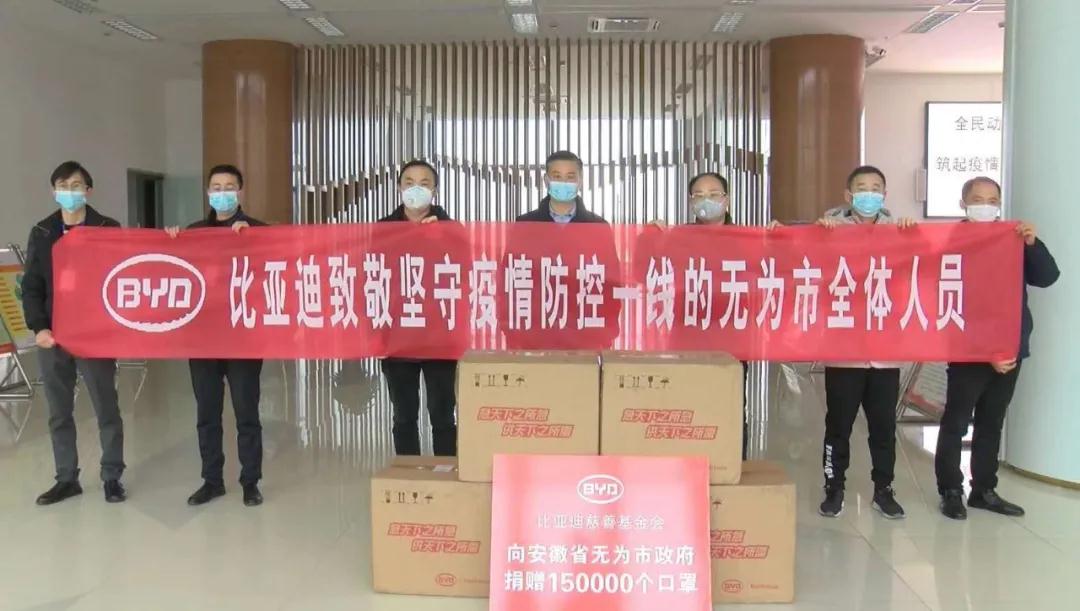 On March 1, byd donated 150,000 masks to the city of wuwei.
On March 1, 2020, the battle against the outbreak of pneumonia was still under way, and the shortage of anti-epidemic materials in many places remained. Byd donated 150,000 of its own masks to wuwei, anhui province, on Thursday after learning of the shortage of anti-epidemic supplies.
Zhu benfang, deputy mayor of wuwei, accepted the donation on behalf of the municipal government, saying: During the period of the most urgent epidemic prevention, byd company donated 150,000 disposable surgical masks to wuwei. This batch of donated goods and materials, which formed a solid foundation, showed the great love heart of byd company. In the next step, we will distribute face masks as soon as possible to the people in need and to the frontline of prevention and control, so as to give strong support to winning the fight against the epidemic. Throughout the &;
Earlier on February 24, byd had donated 50,000 face masks to traffic police in shenzhen who were at the forefront of the fight against the disease. The official microblog of shenzhen traffic police also expressed its gratitude to byd.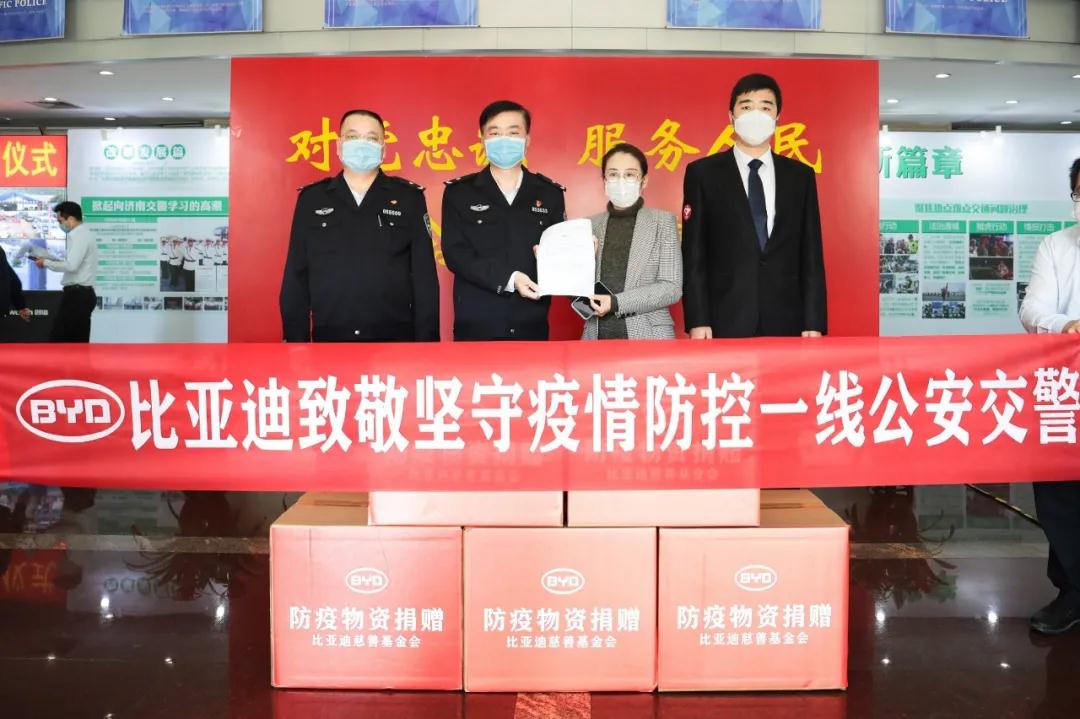 Byd donated 50,000 self-made masks to the traffic police of shenzhen municipal public security bureau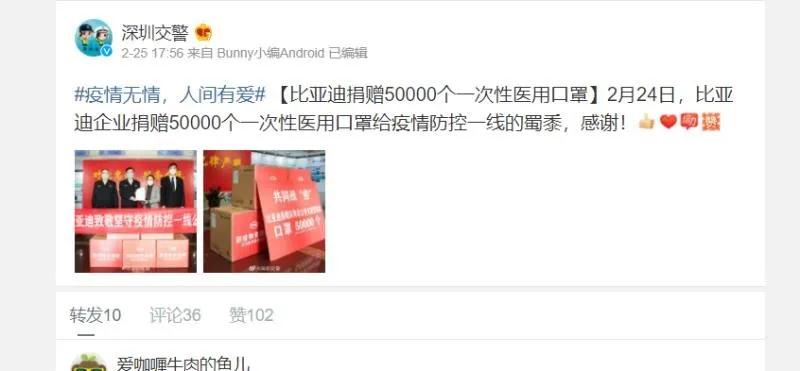 The official weibo account of shenzhen traffic police thanked byd for donating 50,000 masks
In fact, byd has been actively involved in the fight against the epidemic since the outbreak.
On January 28, byd donated 10 million yuan to hubei charity federation through byd charity foundation to support epidemic prevention work. After that, the overseas branch of the group coordinated foreign resources, purchased epidemic prevention and control materials such as N95 masks worth 1 million yuan, and successively donated them to the medical staff fighting at the front line of the epidemic, practitioners and volunteers in the public transportation industry who served passengers and medical staff.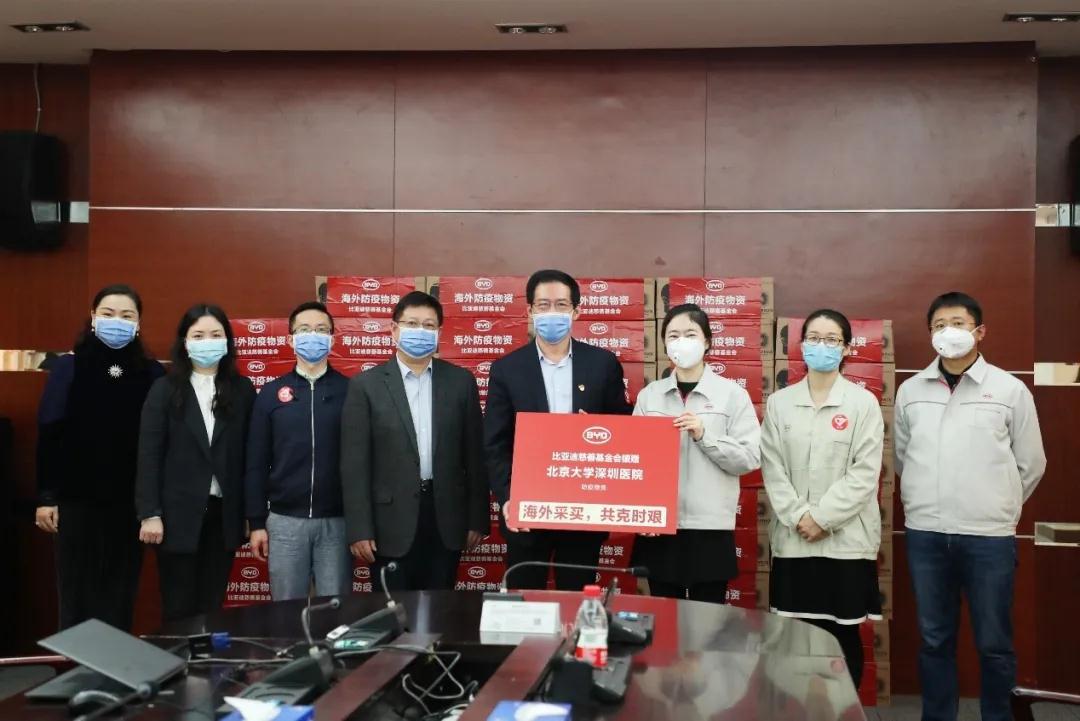 On February 13, byd donated the first batch of overseas medical materials and delivered them to five major hospitals in shenzhen.
On February 8, byd announced that it would continue to fight against the epidemic through the aid of production masks and disinfectant gel.
& other; With the continuous expansion of production capacity, we will continue to donate a large number of self-produced masks to hospitals, governments and other anti-epidemic frontline across the country. Throughout the &; Byd company officials said.
& have spent